---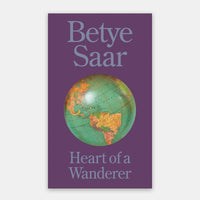 Betye Saar: Heart of a Wanderer
A richly illustrated look at how travel influenced the work of renowned contemporary artist Betye Saar, edited by Diana Seave Greenwald with contributions by Makeda Best and Stephanie Sparling Williams.
Betye Saar (b. 1926) is an artist whose assemblages tell visual stories and convey powerful political messages. A leading figure of the Black Arts Movement in the 1970s, she works with found objects—many of which she gathers on her extensive travels—to explore themes like symbolic mysticism, feminism, racism, and Eurocentric chauvinism. Betye Saar: Heart of a Wanderer sheds new light on Saar's unique creative process, her trips around the world, and the diverse ways in which her artworks engage with global histories of travel and forced migration. It presents how the artist's work conjures the transporting experience of a voyage to a faraway place.

This beautifully illustrated book draws on original, in-depth interviews with Saar and the companions who accompanied the artist in her travels across four continents over several decades. Essays by leading scholars contextualize Saar's journeys within her broader life and career, as well as how her practice fits into broader traditions—such as scrapbooking—in African American visual culture. In addition to providing this context, this book explores how Saar's assemblage practice both echoes and provides a critical counterpoint to the collecting practices of Gilded Age American art collectors like Isabella Stewart Gardner.

Featuring a wealth of previously unpublished material—including almost thirty travel sketchbooks and two dozen finished assemblages—Betye Saar: Heart of a Wanderer provides a fresh look at a groundbreaking American artist while offering a timely social history of the impact of travel on the African American experience.

Distributed for the Isabella Stewart Gardner Museum

Exhibition Schedule
Isabella Stewart Gardner Museum, Boston
February 16–May 21, 2023
Price: $45.00
ISBN: 9780691973852
Published: April 4, 2023
Pages: 208
Size: 8 x 14 in.
71 color illustrations