---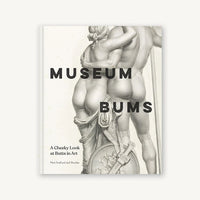 Museum Bums A Cheeky Look at Butts in Art
Based on the eponymous viral Twitter account, Museum Bums, a celebration of classical art, history, and shapely derrieres, encourages readers to learn something new while still managing to have a chuckle.
What do Hieronymus Bosch, the Roman cult of Antinous, and the peach emoji all have in common? But of course, butts, of course!
Divided into six categories of keisters, this humorous history book takes you on a whirlwind tour of the finest rear ends in museums around the world-from the lusciously rendered bottoms of Renaissance painting to the abstract curves of contemporary art. Heritage scholars and art educators Mark Small and Jack Shoulder pair illuminating social commentary, historical context, and lively captions with captivating depictions of tasteful-and sometimes cheeky-bums in art.
Including an angel slyly copping a feel in a sixteenth-century triptych, a twenty-five thousand-year-old bodacious Venus, and Cezanne's dreamy booty-ful bathers, this assortment of artistic behinds is both a celebration and study of the bounty of beautiful bums and their everlasting impressions. Museum Bums invites readers to admire, appreciate, and have a good laugh, all while learning a bit about art and history-a perfect gift for anyone who likes fine arts, museums, and butts.
Publication Date:
09/05/2023