---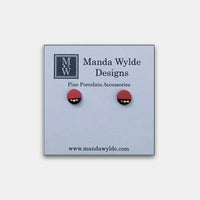 Manda Wylde Red Studlet Earrings
Handmade in Kansas City, Kansas by Manda Wylde 
Hand-dyed and polished red porcelain with black glaze and gold overglaze accents. Titanium posts and backs. 6-8 mm diameter.
Care Instructions: 
Gentle, loving care will help ensure your piece helps you beautify the world for a long time to come.To clean, simply wipe gently with a soft cloth. Please gently place pieces in a safe place to store them when not wearing. To prolong the integrity of your pieces, it is not recommended to expose the jewelry to water or to wear while sleeping.
About the Artist:
"After years of adapting jewelry to the hypoallergenic materials I needed, I started
making my own. I let my loves of Nature, learning, and the process of
experimentation and making guide me down the exploratory path of "What if?" as I
began creating and selling wearable art that is so much more than merely
"hypoallergenic jewelry." Instead, I create pieces that are elegant for a look that
transcends time by pulling influences from Mother Nature, Art Nouveau, and
Art Deco while having a minimalist and modern feel.
For as long as I can remember I've made jewelry and accessories of some sort,
so for me creating is a timeless part of who I am.  From knotted bracelets to fancy
beadwork and lace, some of my earliest memories of hanging out with my textile-
-artist mother include figuring out how to follow a pattern – or make up my own!
I came to work with porcelain, pearls, and hypoallergenic (and precious) metals as part of a still-winding journey:  I constantly had to adapt purchased jewelry because of my metal sensitivities.  I created in a ceramics studio and enjoyed making small things more than large pottery.  I had a strand of craft store pearls, and wondered whether I could "frame them" with porcelain and let them each become wearable pieces of art.  This gave me a unique combination of materials with an elegant, simple, and timeless aesthetic that has improved over time with both my skill and the quality of my materials." -Manda Wylde