---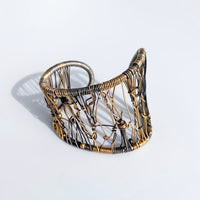 2" Two Tone Tangle Cuff: TA685
Oxidized Sterling & 12KGF Assymetrical Bangle with GF & Sterling Beads

Adjustable Size 6+
Each piece of fine art jewelry by Tana Acton is created from a single "thread" of precious metal, either sterling silver, 12k gold-filled, or copper.
The filament is wrapped precisely and tautly on its frame structure or "loom" in a classic textile technique, translated in metal. The pieces may or may not have a kinetic element captured in the structure or riding on the crossing wires. The fabric created has a faceted effect from the light finding each individual crossing, yet leaving space and air to breathe through each piece.
About Tana Acton: 
Tana Acton has lived a life focused on creative and artistic expression.
She was born in Birmingham, Michigan, to Cranbrook Art School parents and schooled at home and throughout the U.S. and abroad. In Florence, Italy, she studied with Tomaso after studying silversmithing in Haystack's high school program with Glenda Arentzen. Later, Tana earned an Antioch College BFA in painting and completed the Parsons School of Design Fashion Design program.
Both as an artist and entrepreneur, she started with craft fairs at the age of 16. Tana then progressed to graphic artist, dance, choreography, painting, and eventually fashion design for some of New York's leading knitwear and house-ware companies.
Through her unique perspective as designer/choreographer, she combines air, movement, and light to create pieces that are at once delicate and yet solid. Tana's jewelry line is contemporary, lightweight, affordable, and can be worn casually or dressed up.