---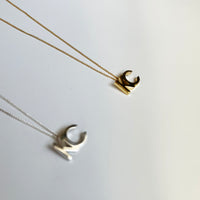 KC Necklace
Jennifer Janesko of Prairie Village, KS

The Five Degree earrings are inspired by small angles that create large imacts in architectual design. The earrings are sterling silver or 14k gold plated sterling silver and comes in a polished finish. The angled bar is 2" long.
16" Chain available in yellow gold or sterling silver

Made in the USA.
Jennifer Janesko earned her BFA in fashion design and went on to create fashion illustrations in the commercial art world for several years.
Her commercial work soon transitioned into a 20 year career in fine art.
Her roots in fashion never left her and in 2011 she began creating jewelry designs,
which became the foundation of JANESKO, LLC.
Janesko's fine art background allows her to apply the fundamentals of art to each design, focusing on balance, composition, color and texture.
Her education in fashion design and styling provides her with the experience to transform an abstract concept into a wearable piece of art.
Janesko's own aesthetic reflects an appreciation for minimal shapes that display unexpected details.
Each design is created with the thought of accessories first, clothing second.
Minimal in line but grand in gesture, Janesko accessories tell a story that immediately communicates the idea of classic lines, with an elevated sensibility.
The artist and designer continues to create in her home studio and travels the world to find inspiration.