---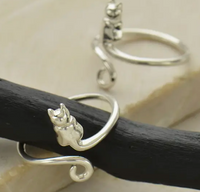 Adjustable Cat Ring
This cute and happy cat is ready to greet you with cuddles and purrs! Featuring a little cat silhouette with its tail wrapping around the finger, it is adjustable so that you can wear it on whatever finger you see fit!
Sizing starts at size 7. We recommend adjusting this ring to the correct size and then leaving it alone. Excessive opening and closing can weaken the band and create cracks and possible breakage.
About Nina Designs:
"When I founded Nina Designs in 1983, I was determined to create a company that had a positive impact on the world. This commitment informs every aspect of Nina Designs, from our dedication to fair trade, to our micro-loan program, from our efforts to care for the planet, to our carefully crafted company culture. Most of our designs begin as a dream. We have an idea, sketch it out in meticulous detail and send it to Asia where it is brought to life by our talented silversmiths in Bali and Thailand. These skilled artisans are a treasured part of our jewelry community and we treat them with the respect they deserve. In a turbulent world, beautiful art plays an important role by lifting our spirits and nurturing our creativity. At its best, jewelry is art that enriches daily life, both for the person wearing it and for those who notice it. Like many of you, I seem to have been born with a love of jewelry. As a little girl admiring ancient treasures at the Metropolitan Museum of Art, I discovered a passion that would last a lifetime. I hope our jewelry designs fill you with joy and inspiration."