---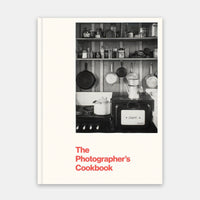 The Photographer's Cookbook
 In the late 1970s, the George Eastman Museum approached a group of photographers to ask for their favorite recipes and food-related photographs to go with them, in pursuit of publishing a cookbook. Playing off George Eastman's own famous recipe for lemon meringue pie, as well as former director Beaumont Newhall's love of food, the cookbook grew from the idea that photographers' talent in the darkroom must also translate into special skills in the kitchen. The recipes do not disappoint, with Robert Adams' Big Sugar Cookies, Ansel Adams' Poached Eggs in Beer, Richard Avedon's Royal Pot Roast, Imogen Cunningham's Borscht, William Eggleston's Cheese Grits Casserole, Stephen Shore's Key Lime Pie Supreme and Ed Ruscha's Cactus Omelette, to name a few. The book was never published, and the materials have remained in George Eastman Museum's collection ever since. Now, nearly 40 years later, this extensive and distinctive archive of untouched recipes and photographs is published in The Photographer's Cookbook for the first time. The book provides a time capsule of contemporary photographers of the 1970s—many before they made a name for themselves—as well as a fascinating look at how they depicted food, family and home, taking readers behind the camera and into the hearts and stomachs of some of photography's most important practitioners.
Format: Hardback
Number of pages: 160
Number of images: 50
Publication date: 2016-06-28
Measurements: 6.5 x 8.5 x 0.7 inches
ISBN: 9781597113571
[The Photographer's Cookbook] raises all kinds of questions about consumption, desire, pleasure, and domesticity, and it whets the appetite for a very much larger work about food and photography… I've been left hungry for more. –LA Review of Books
The Photographer's Cookbook constructs its own vintage picture of the literal and visual tastes of the era, mixing with the contributors' striking images recipes both esoteric and generic and utterly of their times. –Vogue.com
But should you keep this book on your coffee table or in your kitchen? Get a copy for each room. –Food 52
Lisa Hostetler is curator of photography at George Eastman Museum, Rochester, New York. Previously she worked as curator at the Smithsonian American Art Museum in Washington, D.C., and the Milwaukee Art Museum, where she curated exhibitions including Taryn Simon: Photographs and Texts, In Living Color: Photographs by Saul Leiter, and Color Rush: 75 Years of Color Photography in America—for which she worked as an editor on an accompanying title published by Aperture in 2013.