---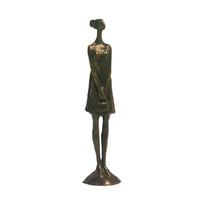 Tom Corbin Miniature: Girl with Purse
Handmade in Kansas City, MO by Tom Corbin
Girl with Purse II Study
7.25"H, 1.5"D, 1.5"W
Bronze, green/brown patina
About the artist:
Tom Corbin's introduction and subsequent career in sculpture has been based more on serendipity than calculation. Born in Dayton, Ohio in 1954; Tom's early fascination in art was inspired by his mother, an art teacher by trade. Despite studying painting and drawing at Miami University, Tom's original career pursuit was Business as an advertising executive. Tom's first brush with the third dimension came in a chance meeting with a bronze sculptor in 1982. Classes with this sculptor led to a deepened interest in bronze casting and thoughts of a career in art. In 1986, Tom left the secure confines of his advertising agency job for the unpredictability of life as a full time sculptor.
Tom landed his first major public commission in 1988. Additional commissions followed, along with the financial freedom for Tom to develop his own "speculative" sculpture. During this period, Tom was also experimenting with furniture design, an area that would soon play a major role in the growth of his studio operation.
Now in his fourth artful decade, Tom's work appears in over 20 museums, galleries and showrooms. Individual collectors include Nicole Kidman, Jack Nicholson, Sofia Vergara and the late Frank Sinatra. Public installation sites include the United Nations, Florida State University, The University of Oregon and The Kauffman Foundation. Tom was most recently awarded the commission to produce a bronze monument of President Harry S. Truman for Statuary Hall in the U.S. Capitol.
"I was initially attracted to the physicality and the dynamic nature of sculpture and was intrigued by the profound impact sculpture can have on an environment. As for bronze casting, the medium dictates a certain sense of tradition and order, which I continue to embrace. The challenge for me is to take the medium and create a tradition of something new.
My work over the last three decades has experienced quite an evolution, that from a representational artist to an instinctive artist. Where my early sculptures were modeled in a traditional manner, my current work is more abstract and serves as a metaphor for the human condition. The common thread running through my evolving style is my love of the figure as muse.  As for my furniture designs, I would agree with Warhol when he said, "The line between art and design is often blurred." I float between sculpture and functional pieces incorporating similar images into each." Functional art, as a result, seems to be a more appropriate title.
My thought process in producing a new work is essentially a planned accident. I begin with a general concept in mind, but whether I end up with that concept is not important. A work in process has a mind of its own and can take you down a totally unexpected but more satisfying path."
— Tom Corbin