---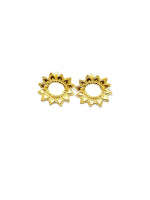 Vintage Lace Fan Pendant Earrings
These 1" earrings are cast from vintage lace.
They are inspired by Josephine Baker the famed dancer of the swinging twenties and thirties. She is famous for her banana dance in the theaters of New York City and beyond but is less known for the work she did for her adopted country of France during WW2. Espionage and France's Croix de Guerre and the Legion of Honour with the rosette of the Resistance. 
About the artist:
Designer Tony Perrin, raised in Southern California, learned how to bead weave at the age of ten from a family friend, all the while soaking in creativity amid a family that worked in the fine arts and photography. He spent more than a decade as a professional dancer in television and theatre, worked in costume design, well as in the New York fashion industry. He eventually landed in Nashville in 2014 where he founded Lock and Key. Tony Perrin hand sculpts each design in the collection. Each pendant uses Precious Metal Clay. The material in clay form has glimmering micro particles of bronze in it, as well as a binder. When fired the binder is activated, the metal particles drawn together, the clay burned off and after hours of polishing is a finished piece of solid metal. Each master sculpt is then casted and individually made in bronze and plated in matte steel black and pure silver for a piece of wearable art. Fashion jewelry never looked so good. In addition each piece is named after a bad ass woman ahead of her time. From dancer Josephine Baker to Queen Consort to France Catherine de Medici, each Lock and Key piece of jewelry helps tell a story of a luminary that fought to be heard. Finished with an iconic lock charm the jewelry has a rich story and depth making it a modern heirloom for a modern woman.