---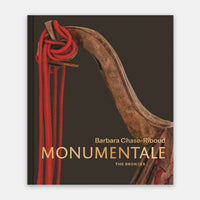 Barbara Chase-Riboud Monumentale: The Bronzes
Barbara Chase-Riboud is a bestselling novelist, an award-winning poet, and a renowned visual artist whose sculpture and drawings are in museum collections around the world. Among her best-known sculptural work is the Malcolm X series of flowing cast bronze forms combined with braided fiber elements. Barbara Chase-Riboud Monumentale traces this pioneering artist's remarkable career from the 1950s to the present, providing the most comprehensive account of her important body of work to date.

The book features both celebrated and never-before-seen artworks that highlight Chase-Riboud's groundbreaking contributions to contemporary sculpture. In addition to some forty sculptures, the book presents nearly twenty works on paper, a selection of Chase-Riboud's poetry, and excerpts from an interview with the artist.

Exploring the many different aspects of Chase-Riboud's artistic practice, Barbara Chase-Riboud Monumentale provides unprecedented insights into her meditations on form, memory, and monument, while revealing the rich array of inspiration she has drawn from global art history and literature.

Published in association with the Pulitzer Arts Foundation

Exhibition Schedule
Pulitzer Arts Foundation, St. Louis
September 16, 2022–February 5, 2023
Hardcover
Price: $49.95
ISBN: 9780691244648
Published: May 30, 2023
Copyright: 2023
Pages: 192
Size: 9 x 12 in.
Illus: 95 color + 10 b/w illus.
About the Authors:
Christophe Cherix is the Robert Lehman Foundation Chief Curator of Drawings and Prints at the Museum of Modern Art. Courtney J. Martin is the Paul Mellon Director of the Yale Center for British Art. Akili Tommasino is associate curator of modern and contemporary art at the Metropolitan Museum of Art. Stephanie Weissberg is curator at the Pulitzer Arts Foundation.