---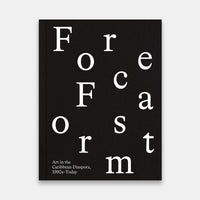 Forecast Form Art in the Caribbean Diaspora, 1990s–Today
Edited with text by Carla Acevedo-Yates. Foreword by Madeleine Grynsztejn. Text by Carlos Garrido Castellano, Genevieve Hyacinthe, Aaron Kamugisha, Mayra Santos-Febres. Conversation with Carla Acevedo-Yates, Christopher Cozier, María Magdalena Campos-Pons, Teresita Fernández.
Caribbean art as a diasporic, fugitive phenomenon: a groundbreaking global survey
The 1990s were a period of profound political transformation, from the dissolution of the Eastern Bloc to the rise of trade agreements that continue to influence the world we live in today. Emerging from this pivotal decade—which also shaped the production, circulation and framing of art in the Caribbean—Forecast Form traces a path into the present, highlighting forms, materials and processes that reveal new modes of thinking about identity and place.
This volume features scholarly essays alongside richly illustrated plate sections and texts focused on an intergenerational group of 37 artists working across the Americas and Europe. A radical rethinking of contemporary art in the Caribbean, Forecast Form reveals the region as a place where the past, the present and the future meet—where continuous exchanges forecast what is to come while remaining grounded in the histories that shape the present.
Artists include: Candida Alvarez, Firelei Báez, Álvaro Barrios, Frank Bowling, Sandra Brewster, María Magdalena Campos-Pons, Donna Conlon and Jonathan Harker, Christopher Cozier, Julien Creuzet, Maksaens Denis, Peter Doig, Jeannette Ehlers, Tomm El-Saieh, Alia Farid, Teresita Fernández, Rafael Ferrer, Denzil Forrester, Joscelyn Gardner, Felix Gonzalez-Torres, Deborah Jack, Engel Leonardo, Daniel Lind-Ramos, Suchitra Mattai, David Medalla, Ana Mendieta, Lorraine O'Grady, Ebony G. Patterson, Keith Piper, Marton Robinson, Donald Rodney, Freddy Rodríguez, Tavares Strachan, Zilia Sánchez, Rubem Valentim, Adán Vallecillo, Cosmo Whyte and Didier William.
BOOK FORMAT
Hardcover, 8.25 x 10.75 in. / 288 pgs / 135 color.
PUBLISHING STATUS
Pub Date 1/10/2023