---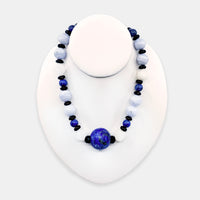 Lapis & Blue Lace Agate Throat Chakra Amulet
Handmade by Dr. Adrienne Walker Hoard, of Homegirl Inc. 
17.5 inches in length, box closure, with Lapis Lazuli, Blue Lace Agate, Dumortierite, & White Jade
Amulets for Transformation Jewelry are reflections of Dr. Adrienne Walker Hoard's journey throughout the world as an artist. Each one-of-a-kind piece is designed as an original work of art. Natural gemstones compliment the personal energy signature of the owner. Each Amulet fosters a sense of connection, safety and belonging. They are created for the soul of the wearer as their highest Self. It is the prayer process of the bead-sewing, which brings each Amulet to connection at this energy level. Enjoy the Amulet for Transformation you feel drawn to select. It belongs with you. Wear it in Peace, it is far more than just Pretty.
Lapis Lazuli, Blue Lace Agate, White Jade and Black Onyx to support your Throat Chakra.
About the artist:
"My PERFORMANCE JEWELRY pieces are Amulets for Transformation. Each one-of-a-kind gemstone bead composition represents "energy adornment for an energy lifestyle." ENJOY the special Amulets you feel intuitively drawn to select! PERFORMANCE JEWELRY Amulets may be worn on your wrist and neck. Each gemstone Amulet is the result of a meditation, a prayerful bead-sewing session. The creative beading session results in selections, patterns and gemstone combinations which are my intuitive, spiritual and inspired choices. My PERFORMANCE JEWELRY is created to enhance the future wearer's personal energy signature for the highest in spiritual performance and to promote personal Peace. Any Amulet can be worn consistently for weeks at a time for greater energy sensitivity. Radionics measured readings show increased light energy to targeted Chakras, and an increase in a person's General Vitality reading within 10 minutes of wearing these unique PERFORMANCE JEWELRY Chakra Amulets for Transformation! ENJOY the special Amulet you feel drawn to select, and wear it in Peace, good health and positive spirit! PERFORMANCE JEWELRY for your more powerful future!" -Dr. Adrienne Walker Hoard