---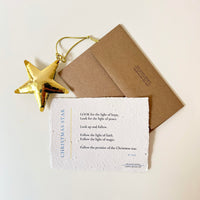 "Christmas Star" Plantable Poetry Card
Plant me or frame me
Each tiny poem by poet W. Hind is a gift to be meditated upon, shared, and then planted or framed. The handcrafted paper is created from locally sourced recycled  and filled with wildflower seeds, the envelopes are 100% recycled, and the clear sleeves are plant-based and compostable.
Back of the card reads: a tiny message for you
4.25" x 5.5"
tiny poetry project story
After her son was born with a life-threatening congenital heart condition, Wendy Hind, Ph.D., J.D., began using poetry and essay as a form of  narrative medicine to connect with others through issues of health and healing. Wendy conducts narrative medicine workshops, is a moving speaker, and contributor to various poetry and medical humanities blogs and podcasts. She is the founder and curator of the tiny poetry project - medicine for the soul.
​Every Tuesday, Wendy posts short poems. Many of the poems are available for wholesale purchase as beautiful notecards. Printed on locally sourced handcrafted artisan wildflower paper the cards are elegantly designed to be framed or planted. .
​Wendy is a former university vice president, professor, policy advisor, and attorney. She has published health related poems and essays in several journals including, The Healing Muse, Blood and Thunder, The Examined Life, and Hektoen International.
 Her Poem, "My Tattoos," was featured on New York public radio and is included in her poetry book by the same name.