---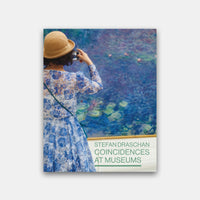 Coincidences at Museums
Art and viewer merge as never before in this fun, giftworthy volume
It sometimes happens in museums that individuals strikingly resemble the art they are viewing. Stefan Draschan has developed a knack for spotting and photographing these amusing coincidences. Over the past few years, while strolling through the museums of Europe, Draschan captured similarities between the works of art and the people looking at them, noticing kinships in color, pattern, hairstyle or physical posture. A young man in denim merges with a blue Caspar David Friedrich landscape; a cluster of schoolkids chime with the mass of bodies in a Rubens; a young girl in blue uncannily mirrors the subject of a Renoir.

The series was begun in 2015, via photo competitions held by the Staatliche Museen zu Berlin and the German magazine art–Das Kunstmagazin, and acquired the title People Matching Artworks. It immediately went viral across the internet, and international users on Facebook, Tumblr, Twitter and Instagram have liked and shared Draschan's photographs millions of times. With these images, Draschan has created astonishing visual moments that are sometimes comic, poetic or surprising, but never contrived. Now, the latest pictures from this hit series are being published in this fun gift book.

Stefan Draschan is a photographer and bicycle activist. Born in Austria in 1979, he commutes between Vienna, Berlin, Naples and Paris. Besides the series People Matching Artworks, he has published other successful photo series such as People Sleeping in Museums, People Touching Artworks and Cars Matching Homes.
PUBLISHER
HATJE CANTZ
BOOK FORMAT
Hardcover, 7.5 x 6 in. / 120 pgs / 80 color.
PUBLISHING STATUS
Pub Date 7/23/2019