---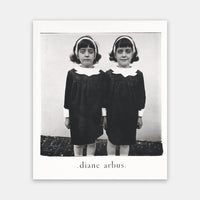 Diane Arbus: An Aperture Monograph
When Diane Arbus died in 1971 at the age of 48, she was already a significant influence—even something of a legend—for serious photographers, although only a relatively small number of her most important pictures were widely known at the time. The publication of
Diane Arbus: An Aperture Monograph
in 1972—along with the posthumous retrospective at The Museum of Modern Art—offered the general public its first encounter with the breadth and power of her achievements. The response was unprecedented. The monograph, composed of 80 photographs, was edited and designed by the painter Marvin Israel, Diane Arbus' friend and colleague, and by her daughter Doon Arbus. Their goal in producing the book was to remain as faithful as possible to the standards by which Arbus judged her own work and to the ways in which she hoped it would be seen. Universally acknowledged as a photobook classic,
Diane Arbus: An Aperture Monograph
is a timeless masterpiece with editions in five languages, and remains the foundation of her international reputation. A quarter of a century has done nothing to diminish the riveting impact of these pictures or the controversy they inspire. Arbus' photographs penetrate the psyche with all the force of a personal encounter and, in doing so, transform the way we see the world and the people in it.
Format: Hardback
Number of pages: 184
Publication date: 2011-09-30
Measurements: 9.6 x 11.3 x 0.8 inches
ISBN: 9781597111744
Diane Arbus was not a theorist but an artist. Her concern was not to buttress philosophical positions but to make pictures. She loved photography for the miracles it performs every day by accident, and respected it for the precise intentional tool that it could be, given talent, intelligence, dedication and discipline. Her pictures are concerned with private rather than social realities, with psychological rather than visual coherence, with the prototypical and mythic rather than the topical and temporal. Her real subject is no less than the unique interior lives of those she photographed. –John Szarkowski, 1972, Director, Department of Photography, The Museum of Modern Art
Those portraits of sideshow performers and weeping children, her matter-of-fact nudists and naked transvestites, her pictures of "them," her pictures of "us"—something of consequence is at stake here, and it's not just art. Arbus worked at the point where the voyeuristic and the sacramental converge. She lies in wait for your first misstep in her direction. Then she dares you to stare at something—a little boy with a toy hand grenade, a dominatrix embracing her client—until you admit your own complicity with whatever it is in there that frightens you. At that point, all the picture's traps unfold, and it confers its rough grace. –Richard Lacayo, Time
Confronting a major photograph by Arbus, you lose your ability to know—or distinctly to think or feel, and certainly to judge—anything. She turned picture-making inside out. She didn't gaze at her subjects; she induced them to gaze at her. Selected for their powers of strangeness and confidence, they burst through the camera lens with a presence so intense that whatever attitude she or you or anyone might take toward them disintegrates…You may feel, crazily, that you have never really seen a photograph before.  –Peter Schjeldahl The New Yorker
Diane Arbus (1923–1971; born in New York) revolutionized the terms of the art she practiced. In addition to Diane Arbus: Revelations, four other volumes of her work have been published posthumously and have remained continuously in print: Diane Arbus: An Aperture Monograph (1972), Untitled: Diane Arbus (1995), Diane Arbus: A Chronology (2011), and Diane Arbus: A box of 10 photographs (2018, with Smithsonian American Art Museum).
Doon Arbus is the eldest daughter of Diane and Allan Arbus; since her mother's death she has managed the Estate of Diane Arbus.
Marvin Israel was an American artist, photographer, painter, teacher, and art director from New York, known for modern and surreal interiors, and abstract imagery.