---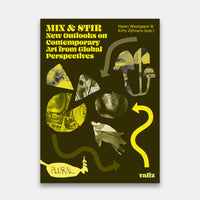 Mix & Stir: New Outlooks on Contemporary Art from Global Perspectives
Edited with text by Helen Westgeest, Kitty Zijlmans.
Aiming to encourage the study of art beyond national constraints and cultural domination, Mix & Stir proposes a voyage similar to that of culinary discovery, to arrive at a true "world art studies." Contributions are structured in seven themes: Undecidability and Spectatorship, Collectives, Circulations, Exhibitions, Artists at Work, Postcolonial Perspectives, and Deep Art History.
Contributors include: Thomas J. Berghuis, Elisabeth de Bièvre, John Clark, Thomas DaCosta, Kaufmann, Parisa Damandan, Wilfried van Damme, Sophie Ernst, Angèle Etoundi Essamba, Paul Faber, Claire Farago, Anne Gerritsen, Jacqueline Hoàng Nguyen, Isabel Hoving, Stijn Huijts, Joo Yun Lee, Nancy Jouwe, Remy Jungerman, Sonja van Kerkhoff, Meta Knol, Frans-Willem Korsten, Katja Kwastek, Sybille Lammes, Charl Landvreugd, Gregor Langfeld, Chris Lee, Christa-Maria Lerm Hayes, Virginia MacKenny, Sarat Maharaj, Tirzo Martha, Kyveli Mavrokordopoulou, Larissa Mendoza Straffon, Ni Haifeng, Stéphanie Noach, Anja Novak, John Onians, Rob Perrée, Georges Petitjean, Rosalien van der Poel, Jennifer Pranolo, Lize van Robbroeck, Pippa Skotnes, Henk Slager, Rudi Struik and many more.
BOOK FORMAT
Paperback, 6.25 x 9 in. / 432 pgs / 90 bw.
PUBLISHING STATUS
Pub Date 2/8/2022
Active
DISTRIBUTION
D.A.P. Exclusive
Catalog: SPRING 2022 p. 149   
PRODUCT DETAILS
ISBN 9789493246058 TRADE
List Price: $39.95 CDN $53.95