---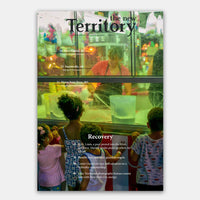 New Territory; Issue 14: Recovery
The New Territory is a biannual print magazine of the Lower Midwest.
"Our land needs new stories. It needs stories no longer based in extraction, or conquering, or the lie of progress." — "Of Plow Spires" by Leslie VonHolten.
The New Territory Magazine is dedicated to telling true stories of land, people, and possibilities in the Lower Midwest. Issue 14 spotlights citizen scientists serving Midwest bumblebees, energetic photography from Kansas state fairs, meditations on two dramatically different Missouri streams, Ozark treehouse builders, and so much more.
Details:
128 pages
Perfect bound
Full color
Printed in Missouri
All the funds from your purchase directly supports the contributors of The New Territory.

The New Territory gets intimate with the souls of the Lower Midwest. Your purchase directly supports the people who archive and interpret our region's stories: from stories taking flight through their whole journey.
FOUNDING PRINCIPLES
HERE IS GOOD. 
"Here" is the Lower Midwest, and we love it. The states of and around Missouri, Arkansas, Oklahoma, Kansas and Nebraska have plenty of problems to solve, stories to tell, and possibilities for making our part of the world even better. Our place-based work is attentive and content — that's why you'll see a frog gracing our stickers and t-shirts. They sit, observe, and move with purpose. 
READERS COME FIRST.
We earn readers through work that honors their intelligence, curiosity and variety of interests and backgrounds. We're mindful of readers' desire to unplug, so we design clean pages without advertising or noisy clutter. Reading in print is an intimate experience. We're proud to bring The New Territory to readers' backpacks, living rooms and beyond.
WE ARE RADICALLY SLOW. 
Hey, we have to fit at least one Midwestern stereotype. The New Territory's journalism prioritizes accuracy, depth, understanding and inspiration — work that takes time to develop (read more about the Slow Journalism Revolution). That's also why we curate great regional literature and art for every issue.
LOCAL CONTRIBUTORS ARE OUR STRONGEST ASSET. 
Our contributors' insight and ideas are fresh and meaningful. Because they understand their place intimately, are trusted and have access to sources that outsiders simply don't have, their perspectives are insightful and authentic. They are also devastatingly talented. As such, they deserve to get paid respectfully.
BUSINESS SUPPORTS A CREATIVE ECONOMY. 
We believe good work is worth paying for, and we use our subscriber-supported business model to educate people on the value of creative work. We are proud to work with sponsors who believe in the power of journalism, literature and art to improve society.
"LOWER MIDWEST" IDENTITY BREEDS COMPASSION AND CONSERVATION.
Humans are wired to protect their self-interest. When we encounter narratives, our sense of "self" expands out to the environments and societies to which people are linked. Stories in The New Territory foster a culture of caring.
OUR MISSION NEEDS BOTH STABILITY AND CHANGE.
Part of our mission relies on consistent regional coverage, and the predictable format and frequency of a magazine fosters trust and confidence for both contributors and subscribers. But to engage with audiences outside of cities and college towns, The New Territory must invent new ways to make connections. We'll make mistakes, but it will be in a good direction.
LIKE THE MIDWEST ITSELF, WE'RE A PLATFORM FOR DIVERSE PERSPECTIVES.
We feel that representing diverse points of view is simply a part of what we do and the world we live in—never just an extra sidebar or box to check. We know we will make mistakes in this or let voices fall through the cracks, and we want to get better. Always feel welcome to drop us a line for suggestions on how to represent the region more fully.