---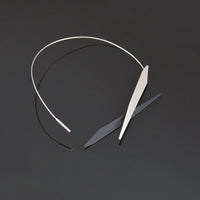 Quinn Neck Cuff
This dramatic geometric neck cuff is a showstopper of a piece! Made up of dual-tone folded pieces in black and metal finishes, the pendants lies flat along the chest on a simple cuff that can be eased open or closed according to preference.
Materials: All metals are brass finished with plating; Finishing 12K Gold, Rhodium, *Black Zinc on brass (*Nickel Free)
Dimensions: 1 mm brass wire cuff approx. 5 1/2" in diameter, Folded charm portion is 5" x 1" overall.
PURSUITS | Designer Bio
Vanassa Chan, owner / designer behind Pursuits, draws her artistry inspirations from design, architecture and fashion. She has earned her bachelor degree in interior design at University of Central England in Birmingham (United Kingdom).
Her background in interior architecture is prevalent in her jewelry designs with composition and form that are visually playful and appealing. Her passion and desire to create led to her experimentation with materials and techniques.
Since its launch in 2014, Pursuits has released several micro-collections with the focus on minimalistic designs. Each piece is created in her studio based in Toronto, Canada.
Design & Make
Vanassa has her own observability from her design background which can be traced from her jewelries. From everyday life observations and researches, varies factors come together and turn into her creations. From mock ups to finalizing designs, she holds tight on each single step for sake of producing consumable yet artful pieces.