---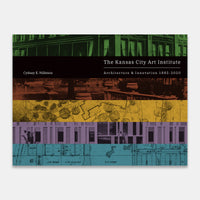 The Kansas City Art Institute: Architecture & Innovation 1885-2020
The Kansas City Art Institute Architecture & Innovation 1885-2020 takes readers on a fascinating journey of the transformation of the Kansas City Art Institute (KCAI) and cements its importance in the architectural history of Kansas City. 
Funded by the William T. Kemper Foundation, written by Cydney E. Millstein and designed by Jeffrey M. Isom, the book follows the college's nomadic beginning in 1885 as the amateur Sketch Club to the current architecturally diverse, award-winning sixteen-acre campus.  

"Our architecture is direct and imparts a meaningful message - this is the place where we study and work. The message is inspirational even if it's received subliminally – these buildings are clearly about places to make. This amazing chronology of the colleges' physical past and newest building concludes in
2020 with completion of the dramatic Paul and Linda DeBruce Hall," said Nerman Family President Tony Jones. 

According to Millstein, this is the first time the history of the architecture of the Kansas City Art Institute has been looked at as a whole. During her research she discovered the work of architects Runnells, Clark, Waugh & Matsumoto, who were responsible for two post-war buildings on campus. She also uncovered archival documents from renowned Kansas City landscape architects Hare & Hare who were involved with the initial master plan of the campus and initiated how the landscape successfully intertwines with the arrangement of the buildings. 

"It is truly significant that KCAI had its beginnings in 1885, wandering throughout Kansas City's core in twelve locations and 42 years later, landed at what became the bedrock of the permanent campus through the generosity of Howard Vanderslice. Subsequently, through the ages, architects and landscape architects created a meaningful and diverse place of distinction, unlike anywhere else in Kansas City," Millstein said.