---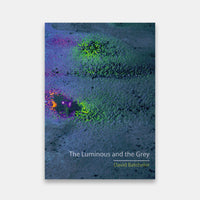 The Luminous and the Grey
112 pages | 5 color plates | 5 4/5 x 8 1/4 | © 2014
Color surrounds us: the lush green hues of trees and grasses, the variant blues of water and the sky, the bright pops of yellow and red from flowers. But at the same time, color lies at the limits of language and understanding. In this absorbing sequel to Chromophobia—which addresses the extremes of love and loathing provoked by color since antiquity—David Batchelor charts color's more ambiguous terrain.
 
The Luminous and the Grey explores the places where color comes into being and where it fades away, probing when it begins and when it ends both in the imagination and in the material world. Batchelor draws on neuroscience, philosophy, novels, films, and artists' writings—as well as his own experience as an artist working with color—to understand how we see and use colors. He considers the role of color in creation myths, industrial chemistry, and optics, and examines the particular forms of luminosity that saturate the modern city. Following this inquiry into the hues that we face every day, he turns to one that is both color and noncolor: grey itself, which he reveals is as much a mood, feeling, and existential condition as a shade that we experience with our eyes.
 
Deftly argued, always thought-provoking, and ever entertaining, The Luminous and the Grey is a beautiful study of how we see and feel our multicolored world.
264 pages | 30 halftones | 6 x 8 1/4 | © 2014